Cement Suitcase
A feature comedy about a man hitting the bottom of the barrel. Now Available on VOD!
Cement Suitcase
Cement Suitcase is an award-winning feature film written and directed by one of our own, J. Rick Castañeda.
This feel-good comedy has now been to ten film festivals, and won the Audience Award at the Dances with Films Festival in LA, the Best Narrative Feature at the Eugene International Film Festival, the Director's Choice Award at the Gig Harbor Film Festival, and the Audience Award at the Ellensburg Film Festival.
160 scenes, 40 locations, and 15 days - that was a daunting task, but on a shoestring budget, it could have been disastrous. Luckily, Rick and The Bunny were able to put together a solid equipment package and a great team of people to support the casting, location scouting, and other puzzle pieces, including a highly skilled and agile crew that could handle up to 4 location changes in one day.
"...simply an emotionally effective comedy that finds new ways to remind us of some of life's simpler but easily forgotten lessons and I'll be damned if it wasn't one of the best I'd seen in quite some years."– "Geek New Wave"
Psychic Bunny handled all 162 VFX shots in the film, including screen replacement, compositing, Flash animation, hand-drawn animation, and object removal. We supervised the entire post process, from providing a DIT to transfer all footage, to transcoding, onlining, color-correction, and title design. We even managed the hand-off to the sound designer, because when we take on a feature film, we support the entire process, so no detail gets lost in the shuffle.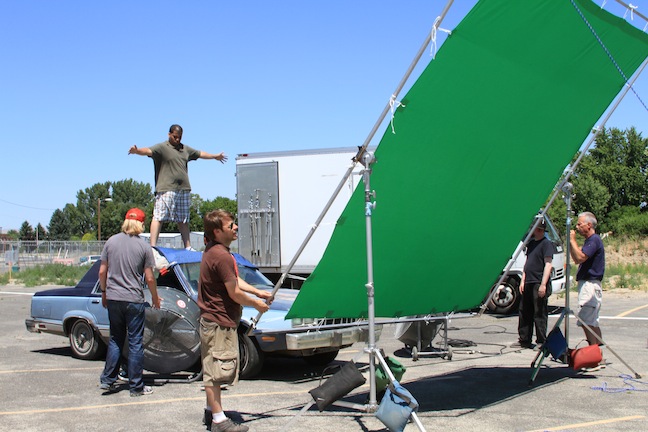 "With Cement Suitcase, I really wanted to get inside the head of the main character, Franklin, so I wrote in a lot of visual effects and animated segments to really show his thought process. Psychic Bunny was incredibly necessary to put these sequences together in a way that didn't feel like a hodgepodge, but rather as a continuous, smooth-flowing film."
- J. Rick Castañeda, Writer/Director
We also shot behind-the-scenes footage for the whole movie, and put together an 18-minute featurette about the production.
Film Festivals - Awards
Dances With Films Festival (Los Angeles) - Audience Award Winner
Ellensburg Film Festival - Best of Central Washington, Audience Award for Best of Fest
Gig Harbor Film Festival - Director's Choice Award
Eugene International Film Festival - Best Narrative Feature
Film Festivals - Official Selection
Los Angeles Latino International Film Festival
Tacoma Film Festival
Big Bear Lake International Film Festival
Seattle Latino Film Festival
Orlando Film Festival
Santa Cruz Film Festival