Collegeology
A suite of casual learning games for getting into college!
Collegeology
Collegeology is a suite of games designed to help underserved middle and high school students who are trying to navigate the labyrinth of the college admissions process.
The first in the series, a card game called Application Crunch, was an official selection of the 2011 IndieCade festival and is currently in use in many high schools across the country. The second game, Mission: Admission, is a free-to-play Facebook adaptation of Application Crunch that takes a student through college-bound activities, including applications, scholarship deadlines, and course selection. The game has an internal deadline of one week, which helps students learn time management as they prioritize, strategize, and execute moves. The third component of the suite is Future Bound, a mobile adventure game that challenges middle school students to confront and defeat any self-doubts that may stand in the way of their future success. A fourth game, slated to deal specifically with finances, began production in early 2013.
"Rather than sitting back and reading a pamphlet or a book... this is a way they can really engage with information."

- Sean Bouchard, Collegeology Design Team
Collegeology was produced in collaboration with USC's Game Innovation Lab and the Center for Higher Education Policy Analysis.

One of the most uncommon and beneficial aspects of the Collegeology production process has been its tight integration with the students the game is designed for. From the early days of Application Crunch, the design and development teams have spent time with underserved high school students in Los Angeles. The exchange of ideas has been bilateral - the design team taught the "junior designers" the fundamentals of game design and play theory, and the students created small games that helped the designers step into the shoes of a high schooler and understand their unique challenges.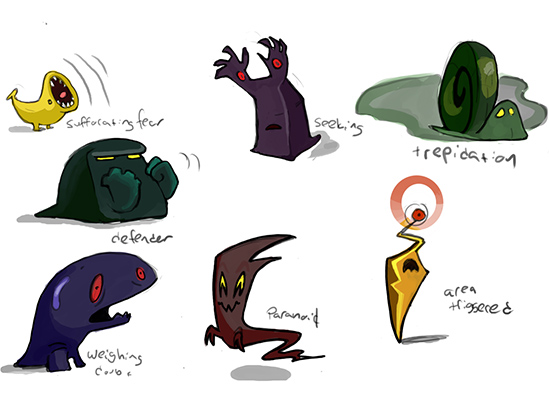 Especially illuminating student-designed games included a game about finding the school counselor who was never in his office and a game about afterschool jobs that made the problem of paying for college become a core part of Application Crunch.
Psychic Bunny has been extensively involved in the design of these games and in crafting their look to appeal not just to the parents, counselors, and decision-makers, but to the kids themselves.